Fall Has Arrived - Or Should I Say Autumn...
It's finally here...
Yes, Fall has officially arrived. And yes, I should say autumn coming from the UK. But Fall has a much more magical ring to it I think. My favourite season of the year with so much going on and that glorious feeling of change in the air... One of the joys of my previous school was that the city was (and is) famous for cider making. The city boasts a cider factory - Bulmers - which has been making cider there for well over 150 years. At this time of year, the air is filled with the smell of crushed apples, distilled apples and apple pie - glorious!
This Weekend I have Mostly Been...
..blog hopping, and enjoying every minute. I have found some wonderful new blogs that I will be sure to visit time and time again. It's great to make new friends and to see all the wonderful work you're all doing out there. It's also great to know that I'm not on my own here - it's so easy to fall into the trap of thinking that there's no-one at the other end of your blogs and forget that there are so many like-minded people who get so much from keeping in touch and sharing ideas. Thank you all!
I hope you've all had chance to join up with Heather's Fall Blog Hop - there really is a wealth of great stuff to pick up and a lot of new firneds to make. The Linky Party runs through until 30th September, so there's still lots of time to link up. Just click on the banner to find out more.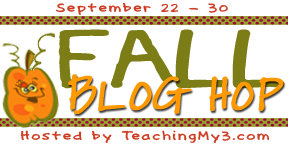 I Love A Freebie - Who Doesn't ...?
For those of you who linked up with the Fall Blog Hop, you might have seen and downloaded my little contribution - a free Hallowe'en flip book based on "Five Little Pumpkins". To compliment the book, I've now just finished the slideshow. It's fully animated to keep the kiddos totally engrossed. Plenty of time has been left between the sentences so that developing readers can take their time to sound out and blend. There is a little surprise on the last page, with a scary spider scuttling its way across the page, and on the credits page a Hallowe'en bat flies across the page to deliver its message - The End.
I had huge fun making this one. I loved playing around with the animations and page transitions. I'd love for a few of you to test drive the slideshow,
so if you fancy a

freebie

in exchange for your views
, just drop me a line below. The first three of you to comment will get the slideshow.
It's bed time for me but not so for you, so all that's left to be said tonight is enjoy the first day of Fall!