Fall Blog Hop Day Three
Hop Across and Take a Look
Heather's Fall Blog Hop has taken off in style. There are some fantastic freebies and Fall ideas there, as well as loads of opportunities to meet new friends - and it's not too late to check it all out. The Linky Party is open until 30 September, so if you want to join in just click on the banner below for all the details.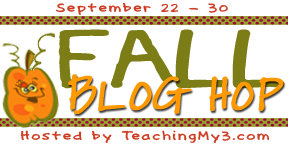 Now for something completely different...
Well, almost. Those of you who have been reading my Fall posts will know that I'm offering a
free
"Five Little Pumpkins" flip book in the Fall Linky Party. You'll also know that I've been hard at work on a "Five Little Pumpkins" slideshow - and you won't be disappointed. It turned out much cuter than I could ever have imagined. It's in my shops now, so do check it out and let me know what you think - Would you like more like this? Or is it totally rubbish?
See y'all tomorrow!