Not only is it the season to be jolly, but it's also a season for celebration. Everywhere I look there are blog hops, linkies and giveaways - and I love it! It's fantastic sharing good practice (my American readers will recognise the UK spelling...) and picking up a whole host of the most wonderful goodies. So here's something a little different. Mary over at
Pitner's Potpourri
is celebrating 1000 followers - wow, that's amazing!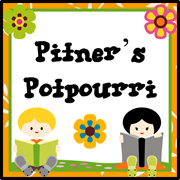 She is having a huge giveaway with lots of great blogger friends pitching in to help. You'll find super prizes from lots of wonderful people (I'm throwing in something too...).
It's Day 3 of Heather's 12 Days of Christmas link up - today it's winter themed freebies. Pop along and see what's on offer.
And if you missed Day 1 and Day 2 of Beth's Christmas Blog Hop freebies, click the picture now to take you there. Don't forget to link up with your items while you're there.