It's been one mad whirl of activity this week - Monday band rehearsal, tonight Welsh class, tomorrow choir. Last night was the only down time I've had in a while - and even that was filled with driving here, there and everywhere in Mum's Taxi... It's 11.35pm and I'm up early tomorrow, so this is going to be a very quick post.
I've been having a nose at lots of blogs over the last few days and I absolutely love what I see! I just have to share with you. I never fail to be impressed by the creativity of my fellow teachers all around the world - it's great to feel supported and part of such a fantastic community. So here's a little thumbs up to some of the linky parties I've come across - do check them out if you can and pick up lots of new ideas and a few freebies along the way.
Teacher 2 Teacher is hosting a Fall linky party with lots of links to wonderful products available from TPT.
Here's another great Fall Linky from Cynthia at 2nd Grade Pad. Hop across and check it out.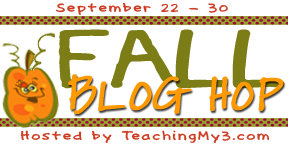 And of course, Heather's wonderful Fall Blog Hop, which is on until Sunday 30th September.
Night night all!